Brainstorms and seminars "what's my company personality? How can we express it?"
"LeCatalog" for events and christmas cards.
Designing experiences for your clients.
After 10 years as a user experience specialist, designing websites. (see my book about it), I wanted to expand my craft to the "real" world.
In my career, I have consulted for most of the top 5 ecommerce sites in France, as well as France Television Interactive, Barclays Bank, Benchmark group... I also have been, throughout the last 4 years, an engaged teacher at the IIM, Celsa, university of Limoges and Poitiers.
With Kenazart, experience designers, I bring together my network of beloved designers, writers, product specialists, to create for your users, audience and patrons a unique experience. Our solutions can be tangible or digital, our focus is the result whatever the mean is. It's true that 10 years of digital experience do come very handy every now and again.
Kenazart, experience designers, SàRL, is based in Paris, France. We travel, pretty easily, to meet our next mission location.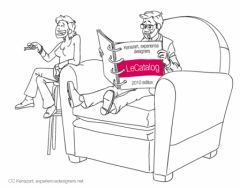 LeCatalog for events and christmas cards.
Should you organize an event and wanted your users to experience rare pieces of technologies and concepts: LeCatalog is your answer. Call us to consult it. LeCatalog is also a unique document that holds towns of ideas, swiftly adaptable, for your christmas and new year cards, for entertaining your prospects at Tradeshows and conferences.



Inspirational speech: enlightening stories with a hint of interaction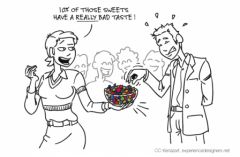 Big fans of people, emotions and the way human beings function in a group, we can come and talk to you about "what we've learnt so far". We have little experiments, we like to have the audience take. Some using funny tasting sweets or stuff hidden under their seats. We use them to demonstration the effect of fear, adoption curves, viral phenomenons, positive strokes and creativity...





LeWorkshop of fresh air: 50% talk, 50% interaction
Let us introduce to your collegues and students, this new era of experience oriented products and communication. Rich of dozens of examples and results that brands had on their business once they'd added experience design to their sturdy products. We will then in a playful way envision what your company personality is. How you can express it.
The talk can also contain a few propositions on what your brand could do.



LaTotale: Get us to create a unique experience for your audience.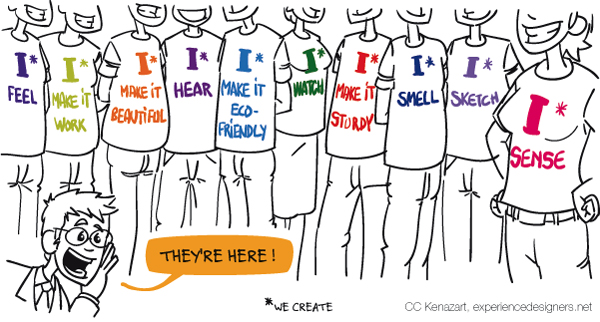 You're a big fan, of what our network of experience designers is capable of doing. You want us to come sparkle your brand?
We will start by listening, LesListeners will have to experience your product. We usually sit quietly in the corner or ask to do a little work with you. We might ask you for some numbers of recurring situations. This phase is about understanding the way you work, who you are, what are your constrains, what are the point of frictions, what is exceptionnal about you, identify opportunities. This phase can last from 1 to 15 days.
We will ask you if your are more dreaming of @big changes, @medium changes or @small changes.
We brainstorm, along with other experience designers. Play a little ping pong with your team or yourself to improve the solutions.
We present you a list of experiences that could be added to your environment. They are usually sketched out so you can visualise it.
You choose the ones you want, or take them all.
We design, produce, realize, make them exist. Some big companies usually have their team integrate the solutions, they just needed the plan, the concept. And we're happy about that.
We tweak them as they get tested in real environment.
We come back after a little to check if everything is ok. We like to make a little movie at that point.
Solutions can be pretty much anything as you might have noticed in our example section. The diversity of our team of free-lancers and technical experts makes us good at pretty much anything. We will always make sure that the experiences have their "online" portability...so it can be shared with others.
Convinced? You want LaTotale? Call us up and say "I want LaTotale". We will understand.
---
Keywords : Services we offer | Add a comment