I'm going to try in this article to explain why the Twilight saga has so many fans. I'm a Twilight fan and I find it really weird how addictive that series of books are.
Twilight saga, a few numbers
First of all, the usual conflict / resolution scenario
As any other story, all of the twilight books follow the conflict resolution scheme. The traditional format of a hero, exposed to a new world, a hero that struggles and finally reaches transformation. Nothing extraordinary here, without that, there is no story.
The journey to another world
So many best sellers are about travelling mentally to another world. Thorn bird, Gone with the wind, Pride and Prejudice, Harry Potter, Lord of the rings, Dune,...
The cruel absence of Harry Potter
So many Harry Potter's fans have been waiting for their great next read. A story that would make them live through an almost magical world filled with great dangers. Waiting for a hero they could identify. A hero that would overcome big dangers with the help of his/her friends.
The Twilight saga vs Harry Potter
Here a little Google trends comparison of the Twilight saga compared to Harry Potter's.

The Twilight saga is less popular than Harry Potter, due to several reasons. But one of them, and none the least, is the fact that they are only 4 books in the Twilight saga. Harry Potter's were released between 1997 and 2007. 10 years to release, 7 books. This gave, to the crowd, plenty of time to talk about what was coming up in the next Harry Potter. See the power of series.
The first Harry Potter's films were out before the release of the last 3 books. The movies do tend to bring nurture the passion. They gave plenty of time for people to catch-up on the books. There was even a year "off" before the 7th book. No wonder the 7th book was such a big hit.
While in Twilight, the last book was out before the first film was released. The fifth book has been started but stopped. I believe it's a good thing, to let the crowd spread and catch-up to the saga, before releasing the ultimate volume.
Twilight saga release calendar:
Date
Books
Films
source Wikipedia
2005
1st book
-
2006
2nd book
-
2007
3rd book
-
2008
4th book (August 2, 2008)
1st film (November 21, 2008)
2009
-
2nd film (November 20, 2009)
2010
-
3rd film (June 30, 2010)
2011
-
4th episode part 1
2012
5th book?
4th episode part 2
Harry Potter saga release calendar:
Date
Books
Films
source Wikipedia
1997
1st book (June 30, 1997)
-
1998
2nd book (July 2, 1998)
-
1999
3rd book (July 8, 1999)
-
2000
4th book (July 8, 2000)
-
2001
-
1st film
2002
-
2nd film
2003
5th book (June 21, 2003)
-
2004
-
3rd film
2005
6th book (July 16, 2005)
-
2006
-
-
2007
7th book (July 21, 2007)
5th film
2008
-
-
2009
-
6th film
2010
-
7th film part 1
2011
-
7th film part 2 (July 15, 2011)
Why are series so effective?
The expectation: people are looking forward to new issues and talk about it.
Time to spread: viral messages take time to spread. Less than before, but still.
Guarantied pleasure: they are no risk involved into buying a book that you know, you already love the character and the author's style. And human are not big fans of taking risks, especially when it comes to books, movies and food.
The projection mechanism (wide age range, usually women)

Want to see the faces of 2000+ Twilight fans?
The whole 4 books are telling the story from Bella's perspective. When we love a character in a film or a book it's because, in some way, we identify ourselves to the character.
Bella is a 17 year old teenager, but behaves like a 30 year old, most of the time. Therefore, girls as well as women can recognize themselves in Bella.
There was an Hachette representative the other day on Arte, she said that, so far, in France, Twilight has touched 1 million people but that the market it could touch (mainly females from 13 to 40) represents 10 million people. Her eyes were sparkling. :-)
Characters not acting their age: great marketing technique to widen your market!
Is « I » helping in the projection process?
The whole books are written using "I", instead of "Bella does this, Bella does that". Which is actually pretty confusing at the beginning but after a while, I got completely used to it. I'm under the impression, that using "I" while writing the book, might help readers identify to the characters.
Most of the books talk about relationships and emotions
I'd like to run a semantic analysis and the books and I wouldn't surprised to find that the majority of the words (40 to 50%) used in the books are words describing relationships and emotions. The author spends a lot of time focusing on what people think and feel rather than room description. Describing in minute details, body language signals that might indicate what the protagonists feel and think.
Social readings are girls favourites, evolution wired us that way. Understanding relationships and emotions help us create links and remain protected by the group.
No wonder, they're so many girls among the Twilight fans!
The Twilight fans addicted to the emotional roller coaster?
In the last book, I could take an extract of 200 pages, and experience 30 very distinct emotions. Love, fear, angriness, compassion, sorrow, there was a moment when my heart was broken. The protective mother in me couldn't bear Seth distress.
No wonder so many fans report that they feel addicted to the Twilight saga. Addiction mechanism is all about taking a product that make you feel differently.
Are fictions, with a hint of fantastic, an escape to our grey and repetitive reality?
Big fonts, easy to read
The 2nd and 3rd were added to the saga. They're not as long as the others, so I believe that, in order to make them look big enough they printed them in big.
But big fonts, are good. It is so much easier to read them.
Badly written or just "Easy to read" written?
Some argue that there is no real literary value to the Twilight saga. To me, it's more, super easy to read. Simple, not pompous, that let you completely dive into the protagonist's emotion.
Even though it is probably poorly written, there is quite a lot of unusual and upper level vocabulary used in the books. The unusual vocabulary even jumped up to the eyes of an English teacher. He ended up creating a book for students to work on their SAT, ACT, GED, and SSAT while putting the words in the context of the Twilight story.
Vampires, the new prince charming?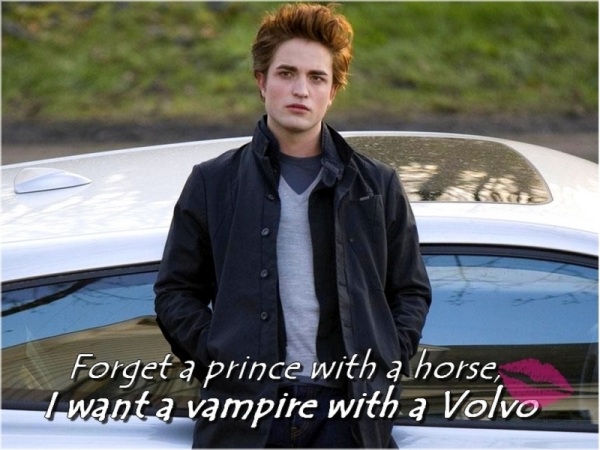 I'm under the impression that the prince charming has had it rough for the past decades. Movies, television series, are depicting depressed, unassertive and weak willed men. People telling girls that they're silly to dream of the prince charming and turn him into a joke.
I feel that with Jacob and Edward, the concept of the prince charming is back. And watch out if you want to attack them, they are pretty lethal!
It's like, girls can claim back to have a prince charming. They're wolves and vampires, they are not perfect and they don't have to be. So, please, give us a break, and let us have a prince charming again.
What both of the male characters do depict is their ability to feel a never ending, undoubted love. What else does a girl need to actually let go and abandoned herself to a man?
I really enjoyed how the author even managed to almost "scientifically" explain why vampires and shape-shifters (wolves) remain in love their entire existence.
To the children of the society of divorce, what if we needed stories / examples of couples making it, "forever". What if, millions of fans, just wanted to witness in its minute details, that love is, once again, possible.
Honestly, how can you forgive someone to be imperfect, invest your entire soul and body to a man, if you think that he might fall out of love and disappear any minute?
How can you let go of your fears when you're surrounded by examples of failing couples? When you don't even know what unconditional love is, because you've never witnessed it? When you don't even know what is it to be able to trust someone, to completely rely on that person, the way Bella does at some point in the 4th book. The way, she knew that he was doing what was necessary. The way, she could let go, and entirely rely on her partner to want to save her. The fact, she didn't have to do it all, that they are a team.
By the way: don't even think about making fun of me, or my "tempered prince charming" will bite your head off. :-)
Not giving up on love, free pass to crazy land
Like Thorn Bird best selling novel by Colleen McCullough, Gone with the wind by Margaret Mitchell, Twilight is about not giving up on love. About hanging on to your obsessions, defying advertisity and remaining in love.
The message is clear, hang on to your love. No wonder, passinate people would fall for those books.
The team Jacob, team Edward phenomenon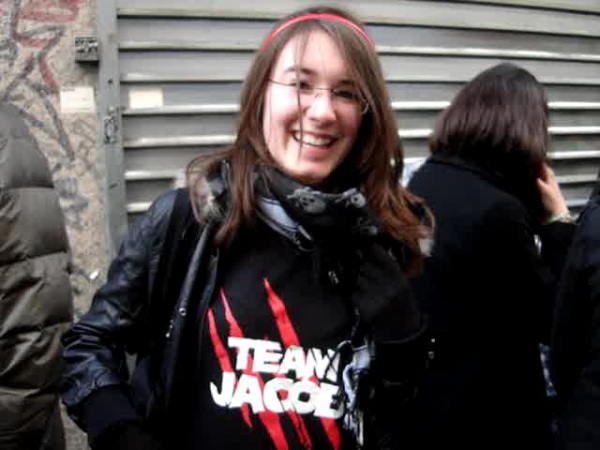 Most girls are able to say if they are Team Jacob or Team Edward. You'll get blogs called "Team Edward Switzerland" and its opposite.
Great debates, that would get groups of people talk and reflect upon themselves of their preferences. Why are you Team Edward? Just by explaining they'd be talking about themselves and get the other witness wondering who's Team they'd be if they'd read the books.
It turns out that Edward's and Jacob's characters represent stereotypes of what a girl might be looking in a man: the pillar, the prince, the accomplice, the lover.
Stereotype description

| | |
| --- | --- |
| Edward | A pillar, a prince, a lover. |
| Jacob | A pillar, an accomplice, a lover. |
Jacob is more the fun boyfriend with whom you get to be silly and childish, while Edward, is the lover that you admire.
Some girls just prefer a buddy while others want to look up to their mate. Only because while growing up, they might have had brothers with whom they had a lot of fun. In the story, Bella and Jacob used to make mud pies together when they were little.
While I was in line at the February Twilight event in Paris, I quickly polled the crowd. And I'm under the impression that, there is a good 2/3 of Team Jacob. Team Edward's, we are more reserved about our preferences, but we have Kristen on our side. :-)
Anyhow, you got to love the great opportunity for merchandising, it creates.
What Pride and Prejudice, The Bridget Jones's diary and Twilight saga have in common
The dilemma of choosing between the fun hot boyfriend and the cold aloof dreamy partner, in Bella story, lasts for almost 3 books, and still lingers among Twilight fans.
Edward's character is inspired by Mr Darcy of Pride and Prejudice, the Jane Austin novel. It's not the first time that Pride and Prejudice characters have inspired famous novels. The Bridget Jones's diary was all about the same dilemma between the cold-aloof Darcy and the fun Daniel Cleaver.
Some argue that its the eternity and the super strength of the vampire that attract all those fans. I wonder if its not just about changing social status. Elisabeth Bennet vs Mr Darcy's, Bridget Jone vs Marc Darcy and Bella vs Edward social differencies are pretty similar, they don't belong to the same worlds. What if, the metaphore is the same but the society is slighly different, therefore the old stereotypes of money and nobility have to change. What is cool nowadays is not to be noble, not to be successfull in business, but to be a super héro.
Twilight books a 2000 page jigsaw puzzle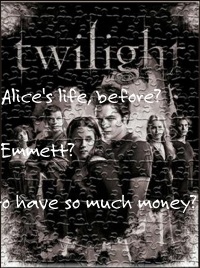 One of the best practises in story telling is to have your audience, wonder about things. Triggering and nourishing unanswered questions, is the key to suspense and attention.
In the Twilight saga, I really felt like in was in a 2000 pages jigsaw puzzle. On page 354 of the 4th book, you finally have the answer to why Bella thoughts are mute to Edward. At last!
You got to love how skilfully the author gives you tiny details that help you put the pieces of the gigantic puzzle together.
So many questions are still not answered. Questions that only the author has the authority to answer. Fans can speculate as much as they want, unless it's not in the official book, a part of your brain will run those questions in your head. Keep you eager to move toward the source of information. It's just the way, the human brain works, it's a response machine. Ask the brain a question, don't answer it, give it a little time and you'll get curiosity.
This is the reason why I believe the 5th book, will be a big big hit, The fifth book is the same story seen through Edward's point of view. You will get all the details and answers, as Edward can read in people's mind. He "probably" knows everything. I also trust Stephenie Meyer to give all those answers a nice and juicy twist. Want to read the beginning of the 5th book? Here it is
Puritan or just G rated?
Some people would tell you that it's a puritan romance as they don't have sex "before marriage". I see the marketing advantages to that, as there is no barrier to recommending the books to younger girls. Some of the Twilight fans are really really young, you understand that it needs to be G rated and not PG rated.
At the same time, I find it, interesting to once again, get to hear the point of view of someone who did wait until being wed. Girls can get examples of people not waiting everywhere, in most movies, in their life. But intimate examples of what it would be like to wait, are pretty rare. And as a grown-up, I'm glad that I can recommend to my young cousins to read that story so they can be more advised when it comes to choosing for themselves what they will do.
The dance of secondary characters and personality flaws
Bella is clumsy, and it is mentioned a lot in the book. It's not something that the film delves on. The lightest hits, here and there, get the fan club laughing during the projection, because they get the joke. In the book, Emmet takes great pleasure in messing with Bella about her clumsiness. Personality flaws give the opportunity not only to get the reader to have a good laugh but gives great design to secondary characters.
Being surrounded by 2000 Twilight fans, made me realised how much the secondary characters were loved or "book hated". Mike and Jessica characters were almost booed during the end title sequence. Poor actors. :-)
Fans would devote their website to Alice, create their own Team Charlie t-shirt.
I found lately that Hollywood is doing wonders with secondary characters, I recommend watching closely the role John Krasinski has in "It's complicated" with Meryl Streep and Alec Baldwin to fully understand what I mean.
Voilà, that's pretty much all I have to say about why the Twilight saga books are such big hit. I do feel pretty silly. :-)
See you next month, for another success analysis.