You know how much story telling there is in Apple communication.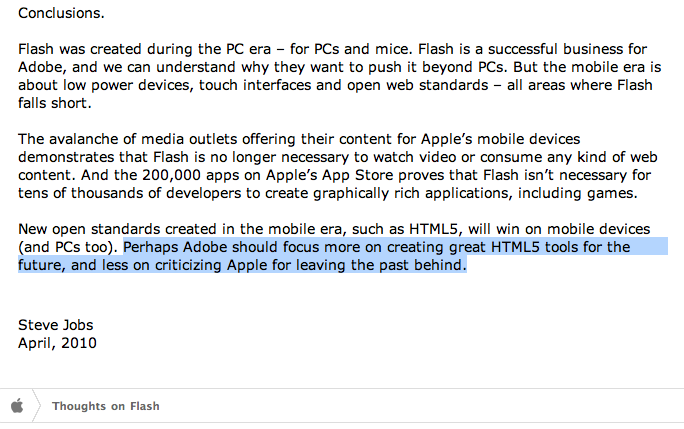 I hadn't realized what was the other great advantage of fighting putting Flash on iPhone & iPad, apart from the obvious business related (you can get a lot of games, tv shows and music for free is you have Flash and Silverlight), performance reasons (Flash is not good for the planet). I see another benefice of this choice, they have a new foe, a new battle to fight. Creating along side millions of people, commenting and taking sides.
In Steve Jobs' last sentence in his now famous "Thoughts on Flash", he might as well have throw down a glove
I find it utterly entertaining, whenever I witness debates among tech teams. The dilemna is so big, being forced to take sides. So many emotions, frustrations, allies and antagonists emerging.
As the battle PC-Mac / iPhone-Blackberry are still continuing amoung users, Apple has created a new one.
It's plain beautiful story telling, as good as Jacob and Edward. Are we going to see Team HTML 5 and Team Flash t-shirt appear?
It's about having the strength to say "no"
Showing personality, whether you are a person or a corporation, is about what you say "No" to.
If Steve Jobs says "no" to Flash, you, what do you say "no" to?